Welcome to our weekly conversation starter.
A lot of interesting news to talk about. Scroll down for:
Portfolio News
Active opportunities
Community news & events
Investors resources picks
Events we can meet at
Portfolio News
Code of Talent has completed the implementation of an artificial intelligence-based innovation project that has lasted 30 months.
Dronamics expands its team with senior hires. The startup welcomes Pete MacIntyre as Chief Legal Officer and Executive Team member, and Robert Harnan as Director of Supply Chain and External Manufacturing.
Yload attended Manifest: The Future of Logistics to observe and discuss transportation industry challenges.
Engage on SeedBlink Circle with other investors on:
Active opportunities
🔔 CLOSING SOON: Licenseware, the first open app ecosystem for IT asset management. Round is led by Early Game Ventures, and co-invested by Fortech Investment, Ace Cap, Growceanu, and other entities. Deadline: Wed, February 8.
---
---
🔔 CLOSING SOON: Productpine is a Dutch startup making Direct-to-Consumer sales efficient and sustainable. €1,5M committed by existing top Dutch & US VCs as well as high-profile angels. Pilot on Trust. Deadline: Sun, February 12.
Community events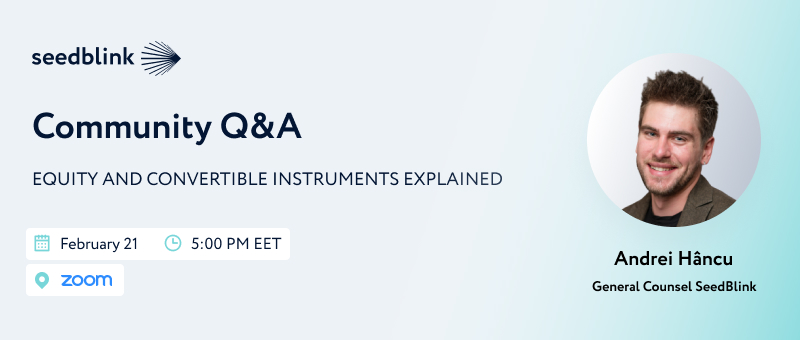 Andrei Hancu, General Counsel at SeedBlink will guide you toward a better understanding of the most common startup financing mechanisms: equity and convertible instruments. ​Learn the main differences between the two, ​what are the investors' rights in each, the meaning of terms such as "valuation cap", "discount", "floor valuation" or "liquidity event". Register here.
Investors resources pick
The 45 Best VC Investments Of All time
---
Returns in venture capital follow the Pareto principle: 80% of the returns come from 20% of the deals. Great venture capitalists invest with the understanding that they will incur numerous losses in order to achieve those wins. Here are the stories behind the greatest VC home runs of all time.
The European Deep Tech Report by Dealroom
Deep Tech in Europe has grown rapidly and has demonstrated resilience in the face of recent market turmoil. Europe has the technical talent and research capabilities to lead in Deep Tech. Many European Deep Tech successes have their roots in academia, spinout processes, and the untapped potential of European universities. Learn more.
Defence tech: a legit investment segment
Private institutional investors from banks to private equity firms started to dip their toes into defence — a trend that investors say VCs will follow. "With the war in Ukraine, there has definitely been a shift in paradigm. Slowly, I think VCs will come as the sector gets larger," says Alexandre de Martino, associate at Axa Venture Partners. Read more.
An overview of the Serbian ecosystem with Nicolas Rabrenovic
"I believe in the power of the country. We had Nikola Tesla, Mihajlo Pupin, and Milutin Milanković, and we can create new opportunities to influence innovation and the scientific world. It's time for Serbia to write this chapter." Meet Nicolas Rabrenovic, Co-founder & CTO founder of Edda, and the President of La French Tech Serbia, who is offering us a glimpse of the Serbian tech and startup scene.
Meet us at
🇷🇴 7 Feb - I Love Failure - Business event, Bucharest
7 Feb - Founders Institute Eastern Europe Virtual 2022 Graduation
🇫🇷 14 Feb - The place to crowd, Paris
🇬🇷 16 Feb - EGG Investor Day, Athens
Thanks for reading
Let us know your thoughts about this week's edition. Plus, browse more resources or invite a friend to the club.