Greece's startup ecosystem is a dynamic and innovative community, with several successful companies in sectors such as fintech, ag-tech, and health tech.
Tomorrow, March 25th, Greece celebrates its Independence Day. Χρόνια Πολλά Ελλάδα, Χρόνια Πολλά Έλληνες!
Greeks are known for their relationship-oriented business culture, where personal connections and trust play a significant role. To deepen our understanding of this culture, we frequently visit Athens and Thessaloniki to engage with the local startup ecosystem and establish meaningful partnerships.
We have built strong relationships with prominent local venture capital firms, such as Metavallon VC and BigPi Ventures, who share our passion for innovation and entrepreneurship. And we are constantly looking to expand our partnerships by connecting with more local angel investors and venture capital funds.
"Greece evolved tremendously, and we've seen a huge acceleration, especially in the last 5-6 years. If we go back to see what everything looked like, it was only ten years ago that we first had the emergence of a handful of tech startups with global ambitions.
Taxibeat, Workable, and Pollfish are a few of these examples. Until then, we only had a few national champions like e-food, Skroutz, and others."
Says Apostolos Apostolakis, Partner & co-founder at VentureFriends.
Greece's key strong pillars
Greece's startup ecosystem is gaining momentum as a hotbed for innovation, entrepreneurship, and investment. The country's strategic location, strong legacy in science and technology, and rapidly improving infrastructure have created an environment that fosters creativity, collaboration, and experimentation.
From Athens to Thessaloniki, a growing number of startups are emerging in sectors such as AI, blockchain, energy, and transportation, attracting the attention of local and international investors.
With a supportive government, a great network of incubators and accelerators, and a highly skilled talent pool, Greece's startup ecosystem is poised for growth and impact, positioning the country as a major player in the global innovation landscape.
Here are some key features and characteristics of the Greek startup ecosystem:
Supportive Government Policies - The Greek government has implemented policies and initiatives to promote entrepreneurship and innovation, including tax incentives, funding programs, and regulatory reforms. These policies have helped create a more favourable environment for startups to grow and succeed.
Access to Funding - Greece has a growing number of venture capital firms, angel investors, and crowdfunding platforms that fund startups at various stages of development. The Hellenic Development Bank and the Greek Investment Fund are also actively investing in startups, providing access to capital for entrepreneurs.
Skilled Workforce - Greece has a highly educated and skilled workforce, particularly in science, technology, engineering, and mathematics. This talent pool has provided a strong foundation for developing innovative startups in various industries.
Supportive Community - Greece has a supportive community of entrepreneurs, mentors, and accelerators that offer startups guidance, resources, and networking opportunities. These organizations include incubators such as egg - enter•grow•go, and accelerators such as Found.ation, Metavallon, and Orange Grove.
The Greek startup ecosystem is maturing
In 2022, Greece had a strong year, counting down a record-breaking number of exits for local startups acquired by local companies or worldwide organizations.
Viva Wallet is probably the most significant example, as it stood out as the country's first unicorn and the most funded Greek startup. Besides this company, there was also the acquisition of Pollfish by a U.S. company Prodege, Softomotive, a company acquired by Microsoft in 2020 and finally, the acquisition of Accusonus by Meta, according to a recent report published by Found.ation and EIT Digital.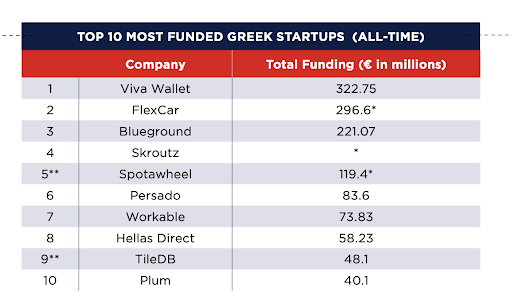 Source: Startups in Greece - 2022-2023 by Found.ation and EIT Digital.
The past three pandemic years pushed Greece out of its comfort zone, bringing positive changes in digital transformation for the public sector. Angeliki Pittarokoili from Endeavor Greece mentioned recently for EU-Startups that:
"Covid-19 had a huge impact on the Greek market – and not everything was bad. It pushed the digital transformation of the Greek public sector forward, ameliorating bureaucracy, and allowed Greece to showcase great crisis management skills abroad and become a country of reference.
Rebranding Greece was crucial after the well-known economic crisis, and it is interesting how another crisis allowed reintroducing of the country to the world."
The Greek VC ecosystem has been majorly influenced by the European Investment Fund (EIF), which launched a €500 million investment program in 2021 to aid Greek companies. Greece is expected to continue its maturing process, and we'll probably see a silent but active player in the Central and Eastern European ecosystem. The retail investor revolution has already shaken the local community democratizing access to startup funding and supporting more individual investors.
The Greek diaspora is passionate about supporting innovation and entrepreneurship in Greece. Through their networks, expertise, and funding, they contribute to the growth of the country's startup ecosystem and help to build a more prosperous and sustainable future for Greece.
Many members of the Greek diaspora have become successful entrepreneurs and startup investors, building and funding startups worldwide. Endeavor Greece mapped 523 diaspora startups in 2021, with a value estimated at $100B+, 13 times bigger than the total value of Greece-based startups estimated at approximately $8B.
"We are looking at the results of the first generation of startups & founders, those who managed to scale their business in the global market.
Greece has a powerful diaspora community, as we had three or four massive waves of migration in the past, from 1920 until today. At Endeavor, we notice that this international community is super committed to supporting those connected with their group."
Says Panagiotis Karampinis, Managing Director at Endeavor Greece.
Athens & Thessaloniki - key startup communities
Athens and Thessaloniki have a highly skilled talent pool, including engineers, developers, and designers, and a supportive government that has implemented policies and initiatives to promote entrepreneurship and innovation.
Additionally, both cities have a strategic location, making them ideal gateways to Southeast Europe, the Middle East, and North Africa. Overall, Athens and Thessaloniki are the most active cities in Greece as startup communities, providing a fertile ground for innovation, growth, and opportunity.
Athens
Athens is the largest city in Greece and the capital, making it a hub for business, education, and innovation. The city has a thriving startup ecosystem with many co-working spaces, incubators, and accelerators. Athens is home to some of the most successful startups in Greece, including Taxibeat, Workable, and Blueground.
The city also hosts several startup events, such as the Athens Startup Weekend and the Athens Digital Arts Festival, which bring together entrepreneurs, investors, and innovators from Greece and beyond.
Thessaloniki
Thessaloniki is the second-largest city in Greece and the country's cultural capital. The city has a vibrant startup ecosystem with many co-working spaces, incubators, and accelerators.
Thessaloniki is home to some of the most innovative startups in Greece, including Sympraxis, Blueground, and Augmenta. The city also hosts several startup events, such as the Thessaloniki Innovation Zone and the Thessaloniki Technology Park, which provide opportunities for startups to network, learn, and grow.
A snapshot of the startup funding landscape in Greece
The total investments of the first ten months of 2022 surpassed the total funding from 2021 despite the number of deals decreasing.
FlexCar (€210M) raised the most significant round, representing 92% of the total funds received by Greek tech startups in 2022.
After a challenging year in 2020, Greece made its comeback stronger than before, with a new record in funding volume.
Here is a quick overview of the local startup investment performance over the past years, analyzed in the SeedBlink 3Years Report launched in December 2022.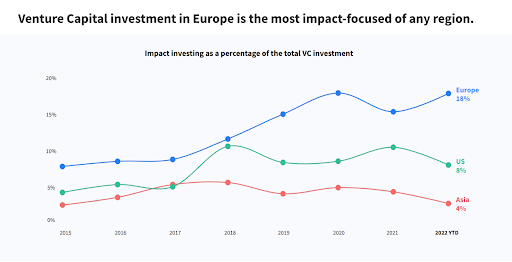 Source: SeedBlink 3Years Report
Let's continue navigating toward some of the main active players in the startup funding ecosystem, nurturing the growth of local startups!
Greek venture capital funds
Venture capital firms are playing a critical role in supporting the growth of Greece's startup ecosystem, providing capital, expertise, and support to emerging startups in Greece and beyond.
Angel investors based in Greece
Angel investors significantly impact the local ecosystem in Greece by providing funding, mentorship, and support to startups. Their contributions are helping to build a thriving startup ecosystem in the country, with the potential to create jobs, drive economic growth, and positively impact society.
SeedBlink's impact on the Greek ecosystem
SeedBlink opened a Greece-based office in June 2022 and, up until the end of the same year, managed to mobilize 4.4% of the level of funding invested in the local ecosystem, alongside the following results:
€16.8M funding volume mobilized
€1.1M invested in Greek companies
7 active investment opportunities on the platform, with 10% of local investors
7% of the Seed and Series A covered in each financing round
60% of the Pre-Seed round is covered based on round type in each financing round
2 Series A rounds successfully funded
€5.400 is the average investment ticket for Greek rounds
€13.700 is the average investment ticket for Greek investors
"The Greek market has significantly changed in the past three years. From both the startup and investor sides, it finally begins to exhibit maturity levels comparable to the rest of Europe.
The emergence of the first local unicorns is proof that business people have begun to become extroverts after learning from their past mistakes and becoming better prepared.
The same is true for investment, with Greek venture capitalists endorsing the best performers and ideas.
Greek investors are aware of the need to diversify their assets, and despite the risks, they do well in startup investing. Not only in terms of money, but the byproducts (providing growth chances, jobs, and contributing to society) are also just as significant."
Says George Platanas, Gountry Manager - SeedBlink Greece.
Unicorns & soonicorns of Greece
In the series of solid exits from 2022, Greece has also marked down its first-ever unicorn - People Cert - a company offering assessment and certification of professional skills to organizations worldwide that hit the €1.1 billion market valuation in 2021.
The next one is Viva Wallet, which raised $989.5M in funding over six rounds. Their latest funding was raised on Dec 23, 2022, from a Private Equity round and was partially acquired by the U.S. conglomerate JP Morgan.
Besides Viva, Endeavor Greece have identified other +10 Greece-based startups valued at more than $1B and holding the potential to reach unicorn status.
"Our new wave of potential unicorns is coming from founders with a deep passion for the domain they are working in and for which they have learned to overcome specific difficulties during the past two pandemic years.
Evidently, these Greek founders have quickly become #1 in the Greek market and are now growing their business beyond the local market, or their plan is to achieve this. It's also nice to see founders thinking about building their business globally from day one."
Says Stergios Anastasiadis, General Partner at Genesis Ventures.
Who are the next unicorns?
Greek unicorns are examples of the country's growing startup ecosystem, demonstrating that Greek startups have the potential to achieve global success and make a significant impact on the industry. Let's see what companies hold the potential to take Viva Wallet's path!
Why invest in Greece
"The local ecosystem is still an uncharted land.
The chances of finding prospects for the upcoming wave of shining stars are more than sure to come. We support and identify hidden diamonds at the very early stages through Startup Universe's national programs."
Says Thanos Paraschos, angel investor and Managing Director at Startup Greece.
"We are looking at the results of the first generation of startups and founders who managed to scale their business in the global market.
Greece has a strong diaspora community. We had three to four massive waves of migration from 1920 until today."
Says Panagiotis Karampinis, Managing Director at Endeavor Greece.
"Greece evolved tremendously, and we've seen a huge acceleration, especially in the last 5-6 years.
Between 2015 - 2016, we had a new generation of startups that started to flourish. Since then, we have had more and more companies coming out."
Says Apostolos Apostolakis, Partner & Co-founder at VentureFriends.