2022 — go hard or go home?
Even though this year started with an uncertainty-filled period that still has some hidden paths, we see that money is still pouring into Europe startup funding rounds. The Central and Eastern Europe startup ecosystem is booming, and more and more startups from the region are attracting investors' attention.
So, let's take a quick tour around the regional communities to see what happened, the current trends defining the future, who is supporting the Ecosystem, and who has the potential to take the lead.
Overview of startup investments in 2021
2021 was the year of the most significant accomplishment for the Eastern European startup funding. The Romanian robotic process automation company, UiPath, hit the IPO status on the New York Stock Exchange in April with a crazy valuation of $36BN.
While the company struggled to attract money from investors to expand in its early days, it proved to all its early investors that they deserved all the trust, ending now as the best venture deal. The top three venture capital firms that placed their bet on UiPath saw a 200,000% return on their money.
"2021 and 2022 will be foundational years for the European industry. We have seen significant growth in investments and actual results from regional companies. We have more European companies raising more rounds from international investors and more record evaluations." says Bogdan Iordache, founder of How to Web.
Besides UiPath's public listing, the Romanian startup ecosystem is showcasing vital signs of consistent growth, going from 30 investments in 2019 to 70+ in the past two years, according to the Romanian Venture Report launched by How to Web. And the number of transactions is not the only one growing, as the capital volume went from €28K to €100K+ during the same period.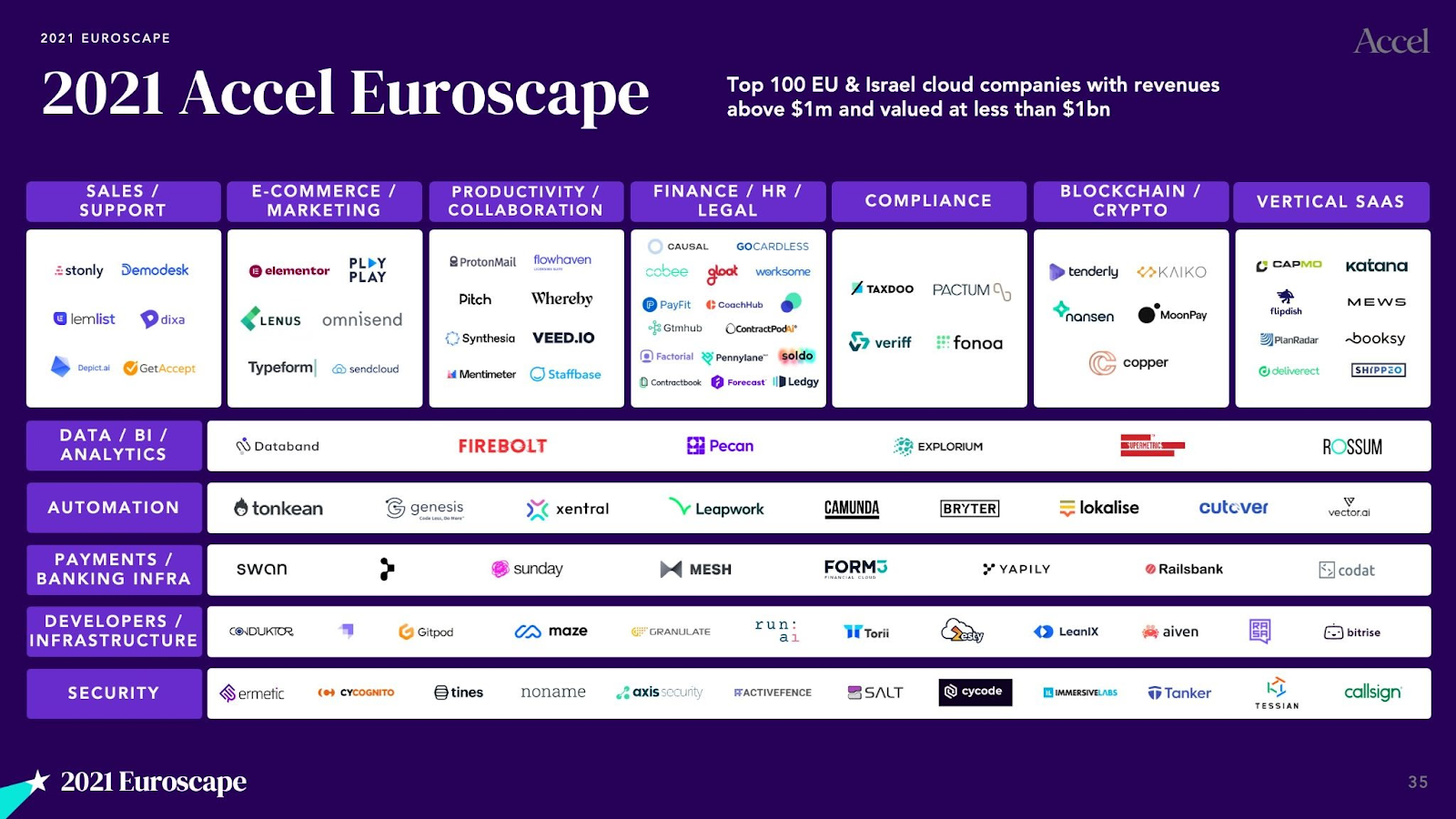 Credits: Romanian Venture Report by How to Web (2020 & 2021)
A similar pattern with almost identical numbers regarding the number of transactions follows Bulgaria, where we can spot an increase in VC and PE funds. Additionally, Bulgarian attracted the eyes of investors more after successful stories, such as the fintech startup, Payhawk, which raised $112m in Series B (at a valuation of $570m).
Both Romanian and Bulgarian ecosystems have a strong collaboration regarding co-investments, and Bulgarian VC funds are looking to invest in Romanian startups. However, according to a comparison report between the two countries, we can't say the same thing about Romanian VC funds, which are just getting started at studying their neighbours.
Besides Eastern Europe, Baltic countries are becoming one of the hottest startup regions in Europe. According to Crunchbase, Estonia, Latvia, and Lithuania saw a 5x growth in funding per capita if we compare them with the Central and Eastern Europe region.
Credits: The Baltic Startup Scene 2020 Report
Experienced investors are confirming these trends and that the Ecosystem will get more funding in the next period, faster than before. Factors such as a high-quality talent pool and untapped potential of the entire Ecosystem are some of the core factors why investors choose to invest in this part of Europe.
Local startups emerging in the Ecosystem have a more significant focus on deep tech and cleantech, taking energy-saving and decarbonization as a priority. The region must support its actions by building factories, and developing the right technologies, as it has all the knowledge and potential to revolutionize Europe's manufacturing industry.
The rise of cross-border collaborations
The same study published recently by Crunchbase shows that 10+ European VC funds have fresh capital to support Eastern European startups and founders from various stages of growth. Most of these venture capital funds are now looking beyond their country's borders to select new deals.
BlackPeak Capital, Earlybird Venture Capital, Eleven Ventures, Flashpoint Venture Capital, Force Over Mass Capital, Kaya VC, LAUNCHub Ventures, Credo Ventures, OTB Ventures, Speedinvest, UNIQA Ventures, Venture Friends, World Fund, and the Hellenic Development Bank of Investments are just some of the VC funds that recently launched new funds, and who'll be announcing startup funding rounds soon, according to The Recursive.
Angel investors and venture capital funds are now looking with more interest beyond their countries' borders. Recent investments raised by Central and Eastern European startups, such as Cyscale picking up 3M EUR from Notion Capital Managers, Seedcamp, and Gampinder, show us a positive trend for more cross-border collaborations.
A growing community during and after uncertain times
The past two years and the recent events in Ukraine might have brought a lot of uncertainty and difficult challenges for many industry players. Still, the local community is rising stronger than before.
Offline events started returning to regular activity with fewer masks and open doors. Slush opened its doors for a great event at the end of last year in Helsinki. A series of significant events have announced their schedules for this year, such as How to Web, Techsylvania, Unchain Festival, Make IT 2022, and many others. SeedBlink also united its forces with The Recursive team for a joint summer event in Bulgaria, which took place on the 22nd of June - here you can see the registration.
Techcelerator launched the Investment Readiness Program #2 with a prize of 500K EUR, dedicated to Romanian tech startups that want to attract seed investments. The well-known European startup program, Startup Wise Guys, enters Romania to accelerate regional fintech innovation with a dedicated accelerated together with EBRD — European Bank for Reconstruction and development.
SeedBlink also expands to multiple countries across Central and Eastern Europe this year. Bulgaria is already a fully functional office, with Angel Hadjiev as Country Manager. We just opened our offices in Greece, where George Platanas, Country Manager, has more than 22 years of international business experience.
The next rising starts in Central and Eastern Europe
The news of a funding round goes out at least once per week or even more frequently in most countries in the region. Smaller or larger founders are raising money faster to scale their startups beyond the country's borders.
However, a few ones have been making constant waves recently and showing the potential of taking a path to success. So, here is our compilation of 10 companies that have the potential to become the next rising unicorns of Central and Eastern Europe.
Payhawk — The fintech platform for spending management, Payhawk added $100M on top of their Series B round, raised at the end of last year, becoming Bulgaria's first unicorn.
FintechOS — A Romanian-born company leading with digital banking and insurance services, has seen constant growth since raising the Series B round of 51M EUR. According to one of the co-founders, the company is expected to go for another round in 2023.
Rimac Automobili — A car manufacturer based in Croatia producing electric sports cars has joined efforts, in 2021, with Porsche Global to bring more technological developments.
Gtmhub — An OKR software that raised a Series C funding round of $120M and fought until the last minute for the title of Bulgaria's first unicorn, with Payhawk. Both companies are going through an accelerated growth phase and are expected to raise even bigger funding rounds.
Rohlik — Rohlik is the biggest online supermarket in the Czech Republic and is currently expanding across multiple countries in Europe.
Deepstash — Deepstash is a curated platform for saving ideas and stacking them on different topics. The app already has more than 1.5M users worldwide and has previously raised a $3M funding round.
EmailTree AI — Emailtree aims to reinvent the customer experience with an intelligent end-to-end customer service automation. The company had two impressive funding rounds of 1.4M EUR and 2.5M EUR from 2021 up to the present.
Agremo — Belgrade-based Agremo, the creator of an agricultural sensing and imagery analysis platform for drone and remote sensing operators, is listed among the top recommendations of regional investors. The company raised 535.000 EUR in April this month through a round from SeedBlink, and South Central Ventures.
Microblink — The Croatian-based company is on a continuous expansion and hiring phase after securing $60M in 2020 from an international venture capital fund. Like Agremo, it's one of the favourite options for regional investors.
DRUID AI — An end-to-end platform for building AI-driven conversational business applications that recently raised $15M from a series of European venture capital funds. The company plans to invest this round in accelerating its growth and expanding globally, especially in other European countries and North America.
The following hot sectors to invest
The upcoming pool of unicorns rising in this part of Europe is an area of discussion for every investor looking to find the best deals from these countries. While some investors prefer to stay industry agnostic and invest in different sectors, other angels and venture capital funds show more profound interest in a specific set of industries.
SeedBlink's community of investors share which are some of the most attractive industries for Eastern European investors:
EnterpriseSaas - with 3.746.713 EUR money raised from 407 investors
MarTech - with 1.943.150 EUR money raised from 291 investors
AI - with 1.884.000 EUR money raised from 152 investors
Healthtech - with 1.868.000 EUR money raised from 259 investors
Fintech - with 1.810.000 EUR money raised from 208 investors
EdTech - with 1.284.000 EUR money raised from 226 investors
Logtech - with 1.223.000 EUR money raised from 112 investors
HR tech - with 680.000 EUR money raised from 60 investors
Agritech - with 409.000 EUR money raised from 86 investors
The rise of some industries such as EnterpriseSaas, Artificial Intelligence, or Agritech is not such surprising news, as recent reports come to show a constant need for ongoing innovation. Besides them, specific countries come with a deep passion or interest for one niche, such as Bulgaria, which has set its preference for a lot of food tech innovation and fermented foods.
The regional Ecosystem also has a series of experts and professionals oriented toward natural sciences fueling the development of more biotech startups. The new wave of companies from this sector is also supported by mature venture capital funds or innovation around governmental policies and regulations.
Ongoing support for the CEE startup ecosystem
The ongoing support for the regional community comes from different parts, and in different shapes, from funding to government resources, local events, programs, and other opportunities to help startups scale their operations beyond borders.
We brought you direct insights from SeedBlink's community of European investors and experts from each category. Below you can find recommendations from angels, VCs, large organizations that support local startups, and more.
Additionally, you can discover how European investors started or dive more in-depth into the startup funding topic by downloading our ebook with 50+ investment tips and tricks.
Why do angel investors invest in startups?
"I have been investing in startups for two years; unfortunately, I did not start earlier. Right now, I have seven startups in my portfolio" says Utku Ogrendil, angel investor.
"Europe has probably the best talents in the world. Take time to discover them, but also ensure that you align yourself with their motivation and timing in life/business. Traction is the best proof of the founders' promises, so design your investment process to be able to judge this (not only excel worksheets and fancy presentations)." adds Milen Ivanov, Managing Partners at Sofia Angels Ventures.
Why do venture capitalists invest in startups?
Cristian Negrutiu, Founding Partner at Sparking Capital: "I would say that Eastern Europe is now the hottest spot in Europe to invest in. I would add that it is also the perfect timing - the Ecosystem has developed a lot in recent years, but there are still plenty of opportunities."
Cristian Dascalu, Partner GapMinder VC & Techcelerator: "Entrepreneurship is one of the practical responses to a country's socio-economic challenges due to the added value that the entrepreneur and businesses can create (through the taxation of the revenue generated by the project, the employees for whom the taxes are paid, duties, and so on).
If we do not have the business sector moving to create sufficiently large and scalable added value, the governments will not have budgetary resources. The healthier your business sector is, the stronger and richer the country so that it can take care of its citizens and has the resources to reinvest."
Why do big companies invest in startups?
Besides investors, in recent years, there was growing support from larger companies who started to support and invest more and more in small startups. From famous entrepreneurs, such as Richard Branson, who built Virgin and later became an investor in Mosaic Ventures, to many other leading tech companies.
We wanted to explore what's happening in this part of Europe and how companies such as Microsoft, KPMG, or Orange support the startup ecosystem in Romania.
Firstly, let's meet René Schöb, the Head of the Tax and Legal Department at KPMG in Romania. He delivers coordinated services to help businesses and individuals negotiate Romania's complex and frequently changing fiscal environment.
René also leads KPMG Romania's Startup Grow Pad Program, in which KPMG helps Romanian startups with a tailored approach to leveraging their venture's growth across borders.
"When you are at the beginning, the business world can seem overwhelming.
The first step is to learn how to navigate through competitors and risks. KPMG in Romania offers startups access to experienced mentors who can help them plan the next steps for the development of their businesses to gain important knowledge, skills, and access to potential investors and be in a better position to succeed.
Romania is a country that could bring up more successful firms, and its profile indicates a country where the focus should be on developing startups in the direction of becoming sustainable mid-sized international or also local enterprises. Investment in startups is an important indicator of a country's future economic strength as successful firms generate capital and strong entrepreneurial talent is injected back into the startup ecosystem.
Supporting startups is a strategic agenda for any economy, creating jobs and growth in a digitally enabled world where unicorn businesses are being created in record time."
Going forward, we sat down with Alin Vlad Badilita, Startup Programs Manager at Microsoft, a startup growth enthusiast passionate about innovative technologies, marketing, and developing business opportunities for small companies with big ideas.
With over 11 years of digital experience, 6 of which in startups, he managed to play different roles in several organizations – from business development and project & product management to event management, digital marketing, and strategy.
"As a key player in the technology field, Microsoft recognizes that a big portion of innovation comes from the free market – specialists and experts, through years of honing their craft, come up with solutions for their respective industries. But it would be limiting to think innovation is solely linked to experience. A good number of startups have young founders that discover problems in their daily activities and, since they're agile and have more time, gather a team around the idea and transform it into a product.
Having one of the most complex partner ecosystems, Microsoft can plug new solutions into the current product development, sales, and distribution networks – offering an unparalleled unique value proposition to startups that want to scale.
With the success of BizSpark, Microsoft's first attempt at a Startup Program, from which UiPath was surfaced, the Microsoft for Startups Program or Founders Hub, as it was recently renamed, is now allocating heavy local and regional resources to the growth of new startups in the Romanian Ecosystem.
Through its Azure and Partner Ecosystem, Microsoft aims to be the best tech and business partner for ambitious tech companies."
This perspective is completed by Monica Obogeanu, Startup Programs Manager at Orange, who shares with us the central beliefs behind the company's ongoing involvement in the local startup ecosystem.
"We believe in the power of community, and we know that to work with experienced founders tomorrow, we must invest today in programs that inspire and educate them from the very beginning.
We partner with coworking spaces across the country, like FabLab Iasi, Cowork Timisoara, or Oradea Tech Hub, as well as educational programs like StepFwd, Make-IT in Oradea, or Innovation Labs - our most extended collaboration for the past nine consecutive years."
If you are decided to invest, you want to start by checking out the active opportunities here on SeedBlink and join our growing community of investors.
SeedBlink now allows more flexible investment amounts, with lower increments and an improved investment process. At the same time, you get access to public or private deal rooms, including early access in some cases.
Join us for the whole experience now!