The world is in challenging times to keep up with the speed of our consumption rates and the constant growth of the global population. The total number of humans currently living on earth is 7.9 billion people and is expected to grow by 9.9 billion by 2050.
The poor management of resources forces different communities to find new solutions to fight the effects of climate change, address resource scarcity, and find more sustainable solutions for our future.
This article explores some of the key elements of the AgriTech startup ecosystem in Europe and how this industry is developing in this part of the world. We'll be going through a short history of the sector, identifying the elements that make it attractive for entrepreneurs and investors, and seeing who are the major players who make the industry thrive.
What is AgriTech?
Agricultural technology, also known as AgriTech, is the application of technology in agriculture to improve farming processes, field management, better sustainable solutions, and a faster food supply chain.
The AgriTech startup sector refers to the companies developing solutions addressing existing challenges in the agriculture industry area. The current status of the world requires constant innovation and digital transformation in a sector that has been with us since the beginning. Two pandemic years and the impact of uncertainty brought by global political tensions made governments and individuals realise the importance of connecting farmers with technology and modern solutions.
So, the most common challenges faced by this industry are feeding a population growing fast and bringing innovation inside an industry that still relies on heavy physical labour.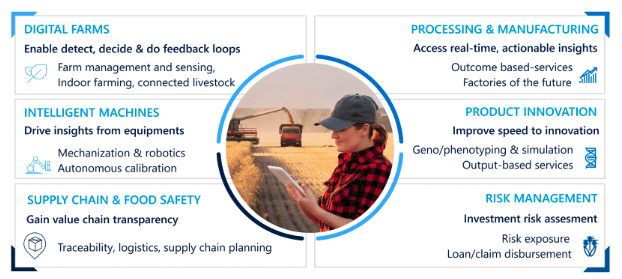 Source: Romanian Agrifood Tech Startups Overview Report for 2022
The State of AgriTech in Europe
The number of venture capital deals and the total value raised by startups worldwide hit a recent record by the end of last year. Last year saw an increase of +$1M in the money coming from investors towards AgriTech startups and 20+ deals compared to 2020.
The end of 2021 came as a surprise bringing a new record for the venture capital funding in this sector. $3.2B money was raised solely in Q3, taking the annual deals up to $7.8B, which means 20% more money than in 2020.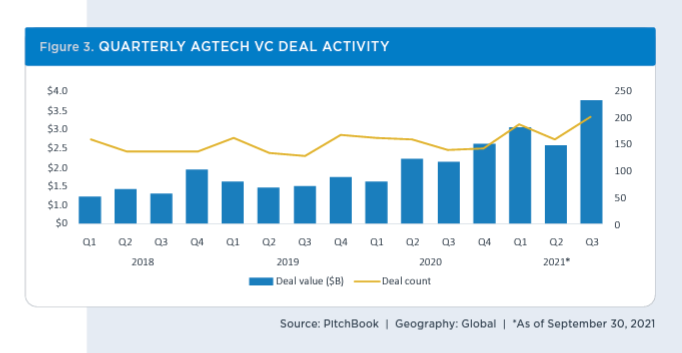 Source: Emerging Tech Research — AgTech Q3 2021
In Europe, 800+ funding rounds counted in AgriTech and AgriFood between 2018 and 2021, counting a total raised sum of $4.5M. The pandemic's start in 2020 slowed things down, but things got back to normal last year.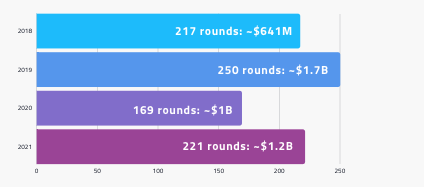 Source: Romanian Agrifood Tech Startups Overview Report for 2022
The effects of this growing industry can already be seen in the Europe ecosystem, where Infarm, a German-based startup, reached the unicorn status by 2021, with +240 EUR raised since 2013.
There are 800+ startups in AgriTech around the world, with 2,392 funding rounds raised and +$20.2B in total funding coming from 1000+ lead investors. Europe is part of this ecosystem with +600 startups and AgriTech companies and +800 funding rounds raised so far. These deals are backed by 255 lead investors, with a total funding amount of $2.8B.
So, investors and venture capital funds are also looking with more interest over AgriTech startups seeing the untapped potential that this sector holds.
"With private equity and venture capital-backed companies employing some 10.2 million people across Europe in 2019 (and some 186,000 in the agriculture sector alone), the next generation can be enticed into agriculture, using tech knowledge to transform archaic and often non-scalable practices into viable and profitable businesses." according to Invest Europe.
The United Kingdom is leading the activity in the Agriculture sector, having a very active startup ecosystem that raised 140 deals last year. Western countries, such as France, Germany, and the Netherlands, are closely expanding their footprint as an agrifood and AgriTech market in Europe.
However, the exciting movements come from Greece, which entered the list of countries with very active investments AgrTech startups right on the top 10 players.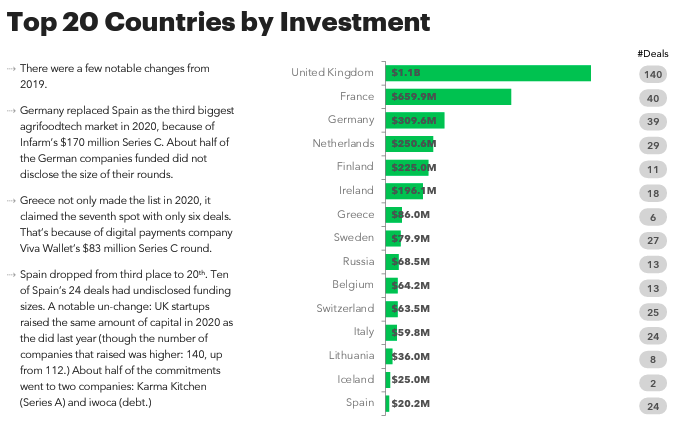 Source: European Agrifoodtech Investment Report 2021
Why Build a Startup in the AgriTech Sector?
The ongoing demand for innovation in food production has empowered the industry making it more appealing to entrepreneurs and investors. Agriculture needs different technologies to be better, innovative, and more efficient.
Some of the current technologies gaining traction in this sector include robots, artificial intelligence, the internet of things, computer vision, and drones.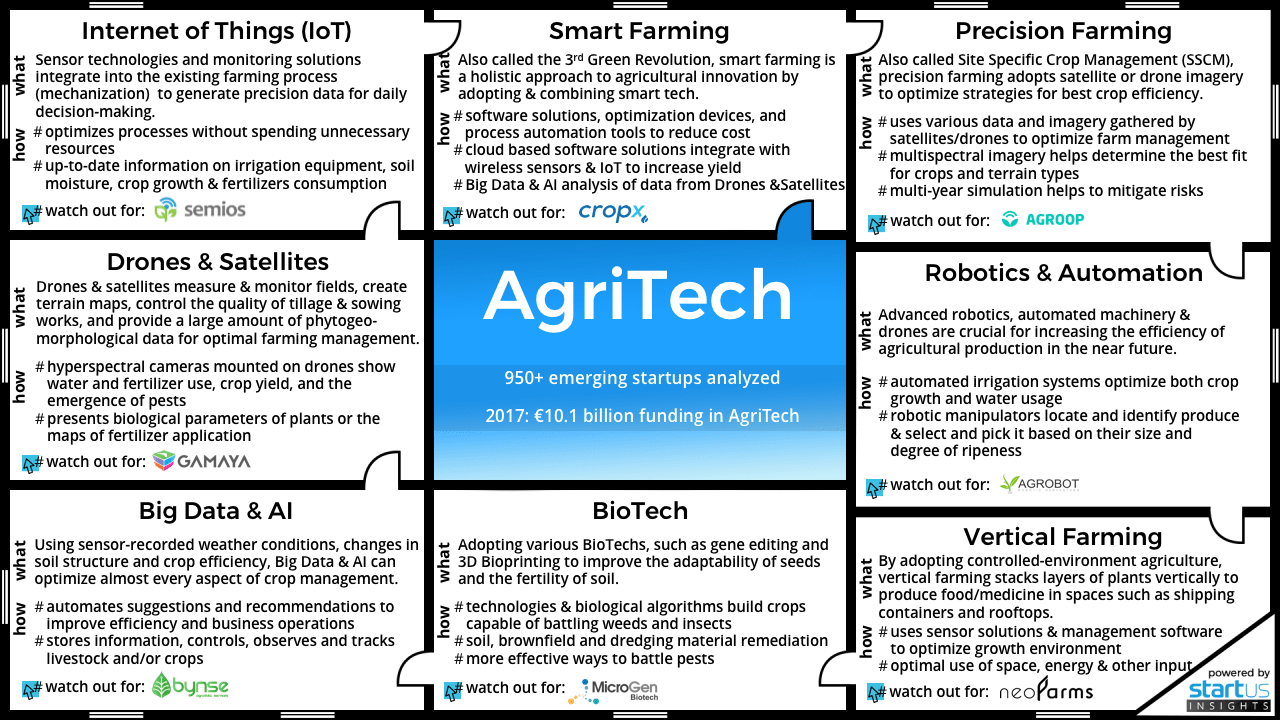 Source: The AgriTech Innovation Map by StartUs Insights
Top trends in The AgriTech sector
The industry is getting disrupted, and more money is invested, but the challenges brought by COVID-19, alongside the ones we already had coming from climate change and the overpopulation of the globe are still here. These are keeping the gears oriented towards the similar trends we had in the last years, such as more sustainable solutions, healthier alternatives, and more efficient management of resources.
Let's do a recap of some of these trends below!
Vertical farming — Entrepreneurs are more focused on using less space and resources to produce more food and become less dependent on the traditional methods and food chains. Vertical farming solutions is a modern solution that uses vertical surfaces to grow and harvest plants without soil.
Robots — Agriculture has been powered by humans for many years, which had limitations in different parts of the process. Advanced technologies using robotics, automation, drones, and machinery, increase agriculture's efficiency, making it less dependent on human errors and slow procedures.
Smart farming — Traditional farming requires many resources, counting both the human effort and the money needed for the process. While new technologies, using IoT solutions or cloud-based applications combined with artificial intelligence can optimise repetitive processes much more efficiently.
AI & Big Data — Back in the day, agriculture was a family heirloom powering families and dynasties. Today, all the information needed in the process is stored under small devices and improved to systems that think independently. Both AI and big data offer helpful information to farmers, eliminating risks and losses of products or money.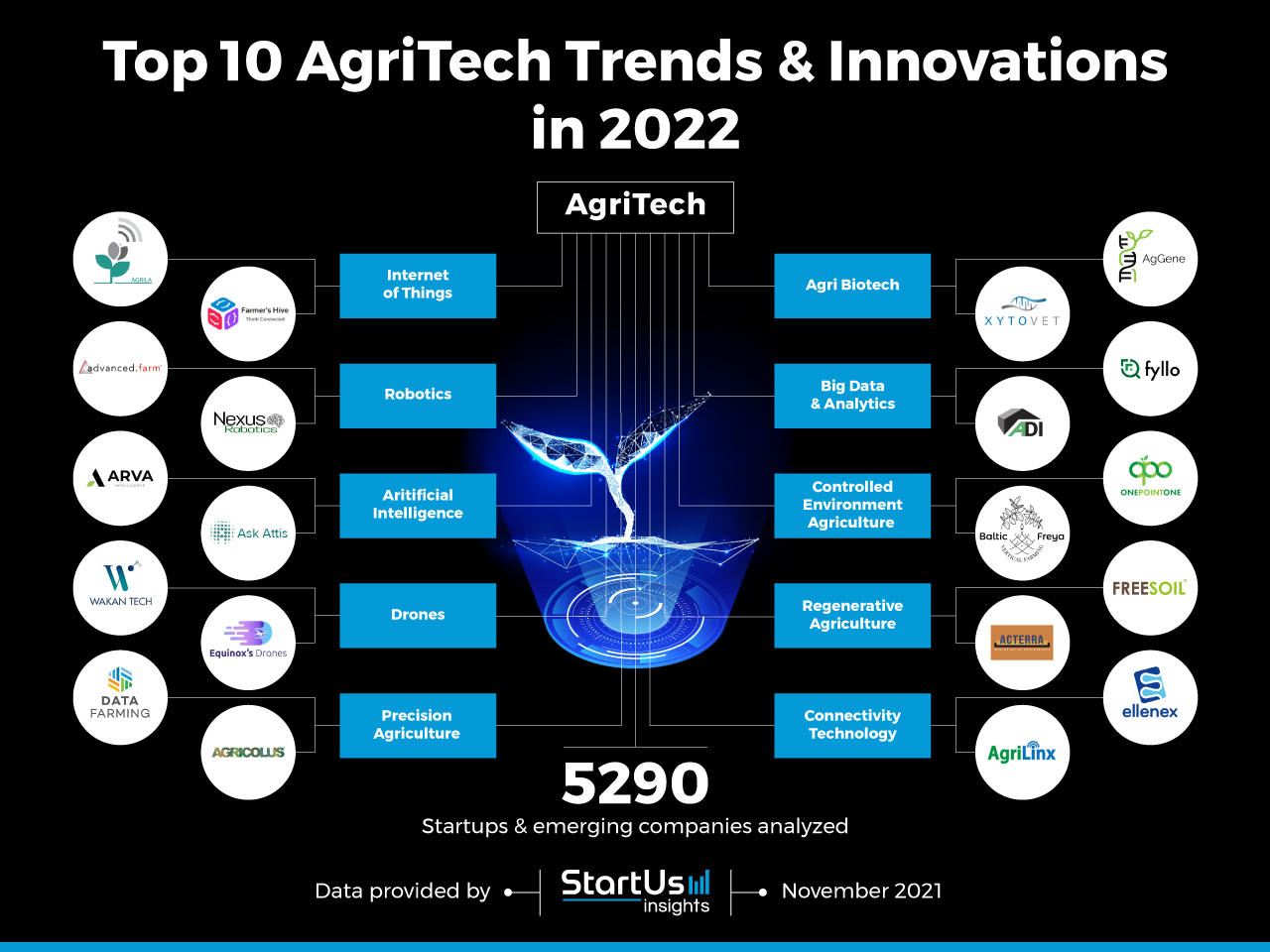 Source: StartUs Insights AgriTech Map
European investors supporting Agritech startups
The AgriTech sector catches up more attention in investors' eyes in Europe.
According to Sifted, these are the most active venture capital funds investing in European AgriTech startups:
Source: Sifted — Vertical farming startups, compared
These venture capital firms are not the only ones investing in AgriTech startups. We find companies from this vertical in the seed and Series A investment portfolios of other European VC funds, such as Speedinvest, Seedcamp, Global Founders Capital, Kima Ventures, Cherry Ventures, and Venture Friends, Notion Capital, Elaia Partners, Vitosha Venture Partners and more.
The list of investors bringing money into AgriTech startups is completed by close to 40 other angel investors supporting the ecosystem. Among the list, you can find Taavet Hinrikus (the ex-founder of TransferWise, and the actual founder of Certific), alongside Xavier Niel (founder of Kima Ventures), Lars Fjeldsoe-Nielsen (General Partner at Balderton Capital), Kat Borlongan (Director at La French Tech), Renaud Visage (co-founder of Eventbrite), Saul Klein (co-founder of Seedcamp), Martin Villig (co-founder of Bolt) and others.
Moreover, the European Union and European Investment Fund are also working closely to support innovation in the agricultural sector. There are multiple funding opportunities right now, available in agriculture, food, and forestry, that startups can apply for. At the start of 2022, the European Investment Fund also signed a €20 million commitment into the MiiMOSA transition #1 fund, MiiMOSA's first investment fund established in 2021 and dedicated to agricultural transition.
European Success Stories
Infarm, the German-based AgriTech startup, is probably the most notable success coming from this industry. The startup focuses on building and installing vertical farming systems in supermarkets so that consumers can choose the vegetables they love, fresh and tasty, as they are with local farmers.
The company produces 500.000+ plants a month and crafted a modular system that allows them to use close to 100% less space than the one used in traditional agriculture.
Source: Sifted — Vertical farming startups, compared
AgriTech startups who raised funding through SeedBlink
Mk2 Biotechnologies
Mk2 Biotechnologies — is an AgriTech startup developing, producing, and investigating peptides at the highest purity and quality standards using a revolutionary synthesis technology. The product focus on synthesising different types of peptides, regardless of their physical or chemical properties. Mk2 Biotechnologies aims to tackle all significant social challenges and provide solutions for a known and unknown demand for new classes of active substances.
Mk2 Biotechnologies ran an investing campaign on SeedBlink and targeted a 1.897.500 EUR funding round. The final amount raised by the end of the campaign is confidential.
Apiary Book
Apiary Book — is an AgriTech startup providing a dedicated management solution for apiaries. The product focuses on beehives monitoring, data analysis of bee colonies, and environmental factors affecting their health. Apiary Book aims to help all beekeepers worldwide make better and more informed decisions based on historical data, current conditions, and apiaries management best practices.
Apiary Book ran an investing campaign on SeedBlink and targeted a 170.000 EUR funding round. It successfully closed the campaign with 200.000 EUR.
Agremo
Agremo — is a SaaS-based precision agriculture platform that analyses aerial imagery of the fields using proprietary and enriched AI, machine learning, and computer vision engine. The software provides agricultural professionals and researchers with accurate and timely information about crops and fields.
Agremo just closed a private funding round of close to 200.000 EUR through the SeedBlink platform.
SeedBlink's community of AgriTech startups continues to grow as more funding rounds go live on the platform. Additionally, Nextcelerator - The Digital Agriculture Hub organised alongside Agricover, and Microsoft just announced its fresh batch of startups. Ten startups based in Romania, Bulgaria, Hungary, the Czech Republic, and Greece entered the program and are now in the mentoring stage alongside a series of local experts.
Keep an eye out for new investment opportunities, and create your investor profile today!