Poland is emerging as a key hub for innovation and entrepreneurship in the Central and Eastern European (CEE) region and beyond, fueled by an increasing number of startups, strong infrastructure, and ample funding.
Over the past 25+ years, the country has seen significant growth, with its economy now ranking as the sixth-largest in the EU. Poland is now home to over 3,000 startups, over 300 co-working spaces, and over 130 venture capital firms, along with a range of acceleration programs and tech conferences.
Poland's strong pillars
Poland's dynamic economy, reasonable cost of living, skilled technical talent, and an open mindset towards cross-border collaborations make it an attractive location for businesses aiming to branch out into other EU markets and beyond.
However, there's still untapped potential within the ecosystem.
Major technical talent.
Poland has a large pool of highly skilled technical talent with a strong focus on STEM education. It's partly due to the country's strong engineering and mathematics education tradition.
As a result, Polish startups have access to a readily available workforce of skilled developers, engineers, and scientists.
Constant government support.
The Polish government has been constantly supporting the startup ecosystem, providing funding, tax breaks, and other incentives to startups. It has helped to create a favorable environment for startups to grow and succeed.
Strong cross-border collaborations.
In recent years in Poland, there has been a significant increase in collaboration between Polish venture capitalists and international investors. Co-investments in 2022 account for 45% of the total transaction value, up from 21% in the same period the previous year.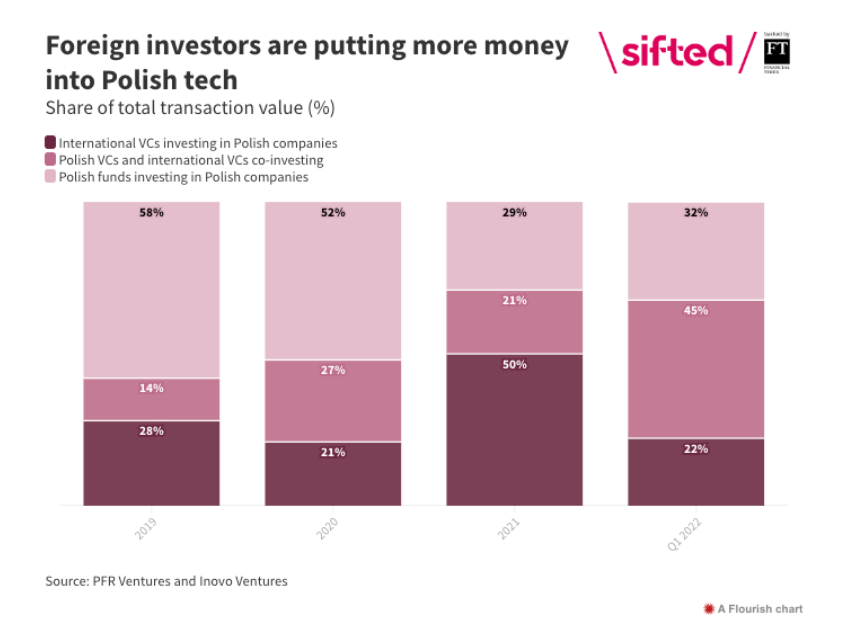 Source: Polish tech is on track for a record 2022
While the percentage of deals exclusively by Polish VCs saw a decline, the absolute number of investments they made increased, with a total investment of €41m in Q1 2022 compared to €34m in Q1 2021.
The startup funding landscape in Poland
Poland has a thriving startup scene, with many successful startups emerging recently. Some of the most successful Polish startups include Allegro, LiveChat, and Brainly. These startups have helped to put Poland on the map as a hub for innovation and entrepreneurship.
In 2022, despite global economic challenges, only 7% of startups reported a decline in foreign investors' interest in the Polish market, while more than half found it difficult to determine any trend. Domestically, 28% of startups have used capital from Polish VC funds, domestic business angels have supported 22%, and funding from the National Centre for Research and Development.
In the first half of 202, the total value of venture capital deals increased by 76% year-on-year, reaching over PLN 2.5B. However, the end of the year saw a slight year-on-year decrease in funding, with PLN 513 million raised, although the number of transactions increased by 14%.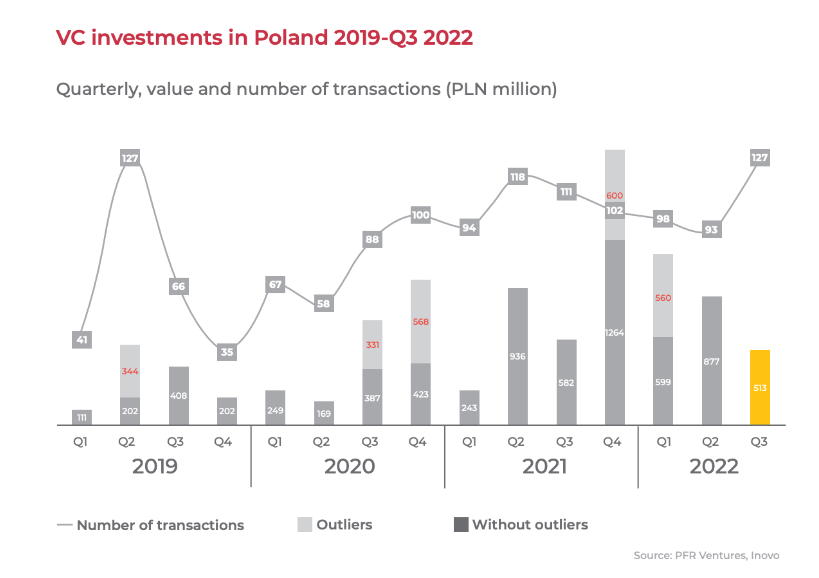 Source: Startup Poland 2022 - Report
During the first quarter of 2023, the Polish VC market saw PLN 446 million invested in 127 transactions involving Polish and foreign funds in innovative companies. It represents a decrease compared to the same period in 2022, yet an 84% increase compared to the first quarter of 2021.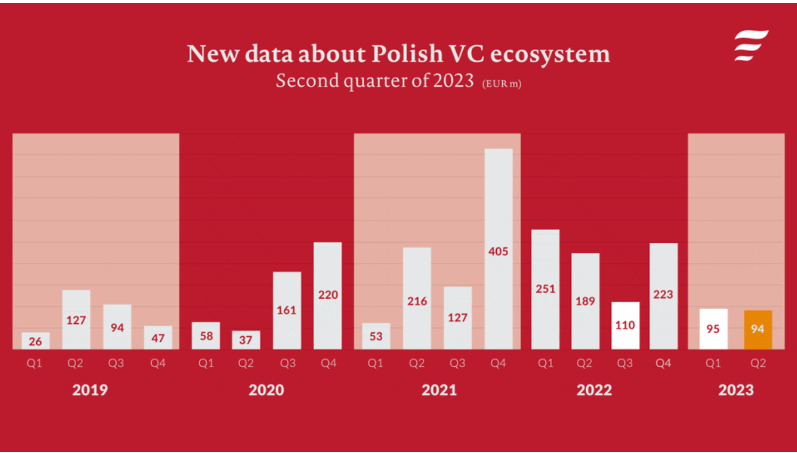 Source: Polish VC market outlook Q2 2023
There was no mega-round transaction. However, it's important to mention that Vue Storefront raised a Series A round, which raised PLN 94.2 million from investors. Other four local transactions that exceeded the PLN 20 million threshold are:
Contect (PLN 47.1M)
HiProMine (PLN 34.5M)
SatRevolution (PLN 21.9M)
Occubee (PLN 20M).
Eleven Labs (EUR 17.5M)
Poland's major startup communities
Warsaw
Warsaw is Poland's capital and largest city, with a population of over 1.7 million. It is also the country's economic and cultural center. The city is home to a large number of startups, as well as some coworking spaces, accelerators, and incubators. Some of the most successful startups from Warsaw include Allegro, LiveChat, and Brainly.
Krakow
Krakow is the second largest city in Poland, with a population of over 760,000 people. It is a major center for education and research, with several universities and research institutes.
Krakow is also home to a thriving startup scene focusing on technology, gaming, and tourism. Some of the most successful startups from Krakow include CD Projekt Red, 11bit Studios, and Estimote.
Wrocław
Wrocław is the fourth largest city in Poland, with a population of over 640,000 people. It is a major center for industry and technology, with some large corporations headquartered in the city.
Wrocław is also home to a growing startup scene focusing on IT, fintech, and e-commerce. Some of the most successful startups from Wrocław include DocPlanner, Grupa Pracuj, and Booksy.
From The Witcher to a thriving gaming industry
Poland has become a thriving hub for the gaming industry, with a gaming sector worth around €1.3B. The country is home to nearly 500 game production and publishing studios and employs over 15,000 individuals.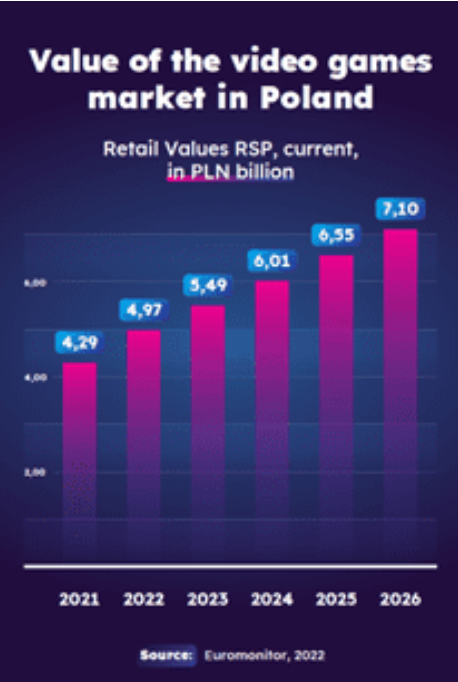 Source: The economics of 11 Bit Studios, CD Projekt Red and PlayWay
The gaming industry has undergone a significant transformation in the past 30 years, leading the way in the CEE region and securing a strong position on the global stage. Poland is the seventh largest producer of games in Europe and 23rd worldwide.
The country has a strong ecosystem for gaming startups, with 490 gaming companies in Poland as of 2022. The industry employs more than 14k people across the country, and 25% of the industry's employees are women, which is one of the highest shares in the world.
FinTech, marketing technologies, and management tools like CRM and ERP platforms are other thriving local industries.
Polish venture capital funds
Unicorns and future unicorns of Poland
Poland has emerged as a hub for innovation and entrepreneurship in Central and Eastern Europe. The country has already marked its territory in the region with the first unicorn, DocPlanner, a healthcare booking platform.
In addition to this, Poland is also home to many promising future unicorns, among which we find:
What do local investors think?
"We have a similar path to other CEE countries, with few super-early pioneers who have built startups and are now examples of success for others, as was UiPath for Romania.
Our ecosystem benefits from a waterfall effect, with all those founders who launched a startup ten years ago now collecting the results of their work. Because of them, the younger generations got motivated - and still are - to take the path of entrepreneurship.
What we see today is the result of a very long process that started with big companies that succeeded in our country in the 2000s. They created job opportunities, supported the economy, and showed what we can achieve for our ecosystem."
Says Borys Musielak, Managing Partner at SMOK Ventures.
"Launching a deep-tech startup in a country like Poland is a two-edged sword.
One approach is to launch right now and consider something other than worldwide sales in terms of circumstances. Bigger countries offer the option to test your idea locally and expand beyond borders later.
On the other side, founders from smaller markets like Slovakia don't have that luxury of having a big market and have to start thinking about the product internationally right from the start."
Says Bartosz Składzień, Partner at APER Ventures.
"What was missing in the past was cash for Series A, Series B, and later-stage startups. Right now, there are more and more VC funds from Europe and the US approaching Poland,"
Source: Sifted, Says Aleksander Mokrzycki, Vice President of the Board at PFR Ventures.
"We're seeing the lower investment activity of later-stage funds in Poland and CEE, which naturally accounted for a large portion of the market in the region.
On the other hand, we are aware that the best funds from all over the world can compete for the most interesting deals with fast traction, a great team, and a good product, a perfect example being Eleven Labs."
Source: PFR Ventures, Says Karol Lasota, Principal at Inovo VC.
"We need more venture capital investments, stronger government support, and better education to become an even more innovative ecosystem. It's our duty to nurture Polish founders and startups and pave the way for technological advancements."
Says Pawel Zylm, a local angel investor.