As a startup investor, you know that the success of your portfolio depends on various factors, such as market conditions, industry trends, and the strength of the company's leadership team.
In this article, we'll explore how AI, and ChatGPT in particular, can improve the research for startup investors. We'll also dive into how you can use ChatGPT to conduct a market and generate templates, content ideas, or handy lists easy to grab when needed.
Key takeaways:
The use of ChatGPT has changed the game for startup investors, enabling them to make more informed investment decisions by leveraging the power of AI to gather valuable insights.
ChatGPT can be used for various purposes in startup funding, including market analysis, industry analysis, investment analysis, and company assessment. It can also be used for other purposes, such as generating content, finding community leaders to follow, and identifying media outlets to pitch to.
While ChatGPT is a valuable tool for startup investors, it should not be relied upon as the sole method of analysis and due diligence. Investors should use ChatGPT with other research and analysis methods to ensure informed investment decisions and minimize risks.
Let's start and see if you can gain a competitive advantage in the fast-paced world of startup investing by using ChatGPT!
How has AI changed the game?
Venture capital funds like EQT Ventures, Sapphire Ventures, or Hone started to use AI tools to automate their daily workflows, improve their startup assessment efforts, spot early signs of traction in startup journeys, and have better tracking for their portfolio companies.
Below, we summarized some of the main use cases in which artificial intelligence has changed the game in venture capital:
Automated Repetitive Tasks: many routine tasks, such as data entry and report generation.
Enhanced Data Analysis: financial data, market trends, and other relevant information.
Improved Decision-making: AI-powered algorithms can identify patterns and predict future outcomes.
Efficient Due Diligence: streamline the due diligence process to quickly evaluate a company's financial performance, market potential, and other key factors.
Improved Portfolio Management: tracking key performance indicators and identifying potential risks and opportunities.
ChatGPT is a startup developed by OpenAI, a San Francisco-based startup backed by well-known investors such as the co-founder of Linkedin, Reid Hoffman, and Khosla Ventures. In the recent news featuring tech outlets, we saw that Microsoft stepped up to invest in this company and already integrated it into their Bing search engine, with the latest update announced earlier in February 2023. Bing's chatbot is currently available to a limited audience during the testing period, but there is a waitlist you can join for early access.
With so much hype around ChatGPT coming from different industries and sectors, it was natural that investors would also start to pick the brain of this AI application. Artificial intelligence (AI) started to have a significant impact on the venture capital (VC) and private equity (PE) world already a few years ago, transforming the way investors identify and evaluate potential investments.
AI has enabled VCs and angel investors to make decisions more efficiently. As AI technology evolves, we will likely see even more innovations in this space in the coming years.
How to use ChatGPT in startup funding?
Investors often face large data sets when analyzing a good potential deal for their portfolio. But what if this viral tool could help investors learn more about an industry or market faster? Let's jump in and see what this tool can generate so far!
Market analysis
ChatGPT can be a valuable tool for conducting market analysis in startup funding. We have picked Tripmakery, an online booking platform for groups with an active round on SeedBlink, targeting an investment of 970.000 EUR. Tripmakery found a particular niche in the travel industry where people find it difficult to book a hotel for groups bigger than ten individuals on traditional platforms such as Booking.
We ran some queries to find out what ChatGPT can help us learn more about the hotel group booking market industry and find out the best areas of knowledge since it can provide relevant data up to September 2021.
Market Sizing
ChatGPT can help investors estimate the size of a particular market and its growth potential, including some insights into the opportunity by analyzing consumer demographics, market trends, and other relevant factors.
So, these are some of the key areas where we find out that ChatGPT could be of help to investors:
Market overview & market opportunities
Industry research & information analysis
Overview of the macroeconomic landscape (limited to 2021)
Discover trends, advantages, disadvantages, and potential risks
Evaluate a few potential risks, active investors in a particular field, or startup funding trends
Before moving on, we wanted to see what relevant insights ChatGPT could have for an investor potentially investing in an active round from our platform. So, we took Tripmakery.com, a travel-tech startup based in Vienna offering an online booking platform for groups bigger than ten people. Since placing a reservation through traditional booking solutions is impossible, Tripmakery is the first website to scale group hotel bookings.
Tripmakery has an active round right now on SeedBlink, starting with 670.000 EUR pre-committed money, having KFLT Founders as the lead investor and targeting a total investment of 970.000 EUR.
Have ChatGPT deliver you a pitch deck summary
As an investor, you must conduct due diligence to evaluate a company's financial and operational performance and determine its investment potential. It involves analyzing various aspects of the company, including its financial statements, management team, industry trends, competitive landscape, and growth potential.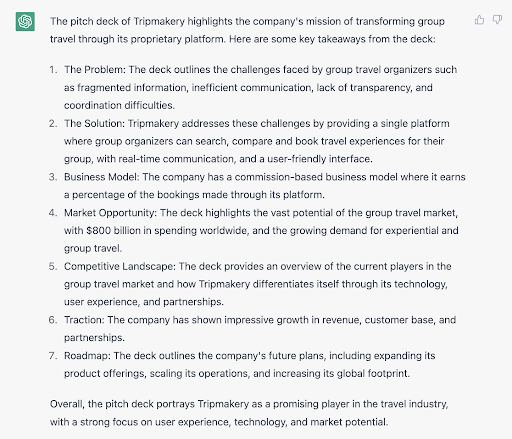 Run a Competitive Analysis
ChatGPT can help investors comprehensively analyze the competition in a particular market. By analyzing publicly available data, ChatGPT can identify key competitors, their strengths and weaknesses, and their market share. This information can help investors make more informed decisions about potential investments.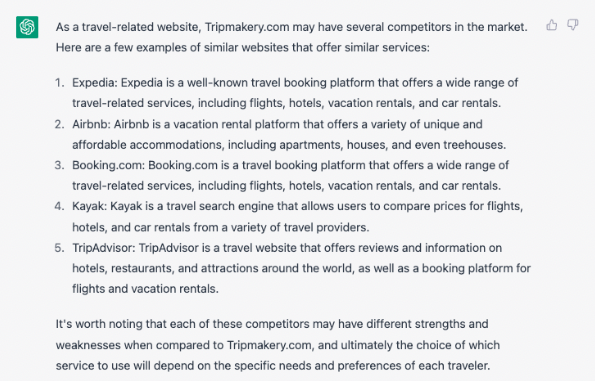 Ask ChatGPT About Company's Customer Analysis
ChatGPT can analyze customer data to understand their preferences, behaviours, and needs. By identifying key customer segments, investors can better understand the market and determine which products or services are most likely to succeed.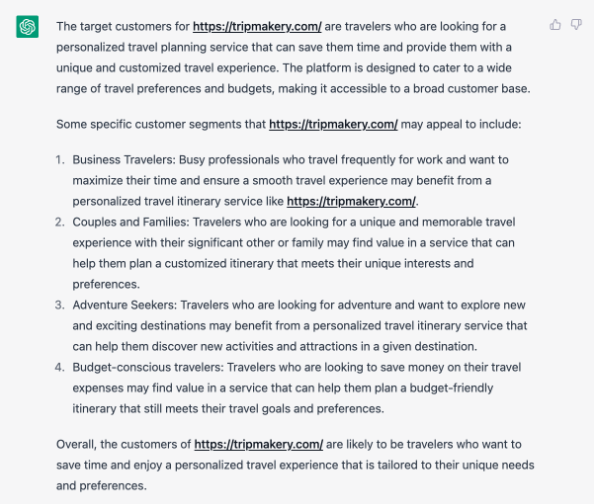 Other use cases of ChatGPT for a startup investor
We discovered similar queries at Dr. Andre Retterath, Partner at EarlyBird Venture Capital, play with ChatGPT. Take a quick tour of these use cases to learn more.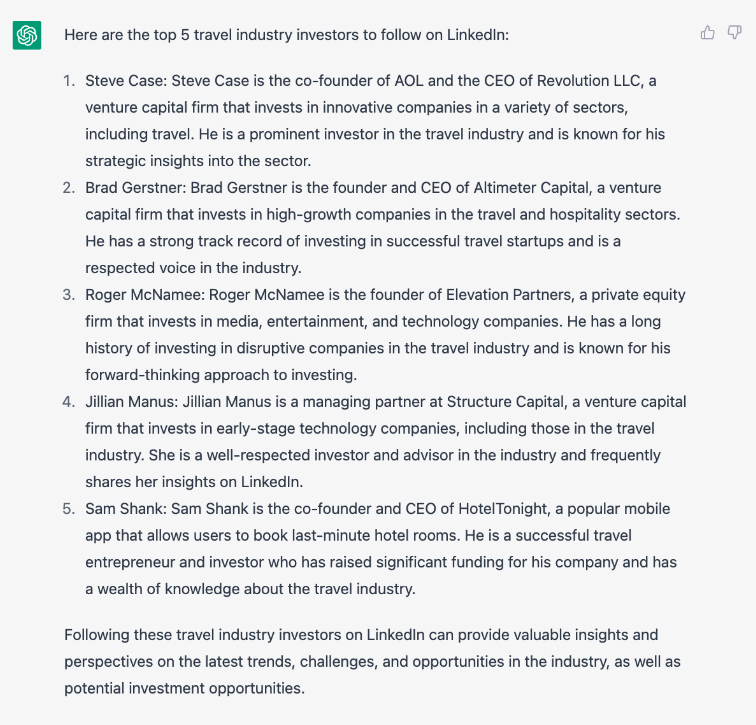 Content generation for social media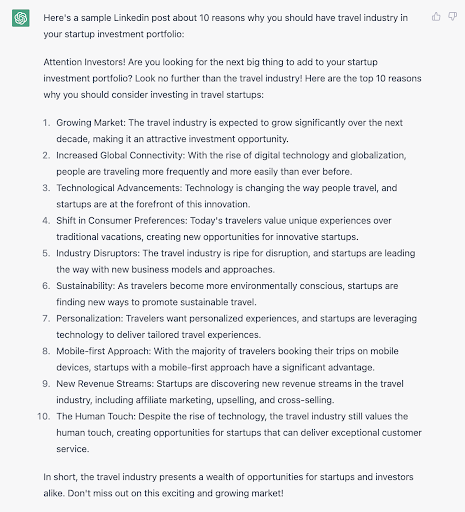 ChatGPT is a valuable tool for startup investors seeking a competitive edge and making more informed investment decisions. By leveraging the power of AI, investors can quickly and easily gather valuable insights.
However, it's important to note that ChatGPT should not be relied upon as the sole method of analysis and due diligence. Investors should use ChatGPT with other research and analysis methods to ensure informed investment decisions and minimize risks.
Disclaimer
ChatGPT is a language model designed to provide information and answer questions about investing and other topics. While ChatGPT may provide helpful insights and guidance, it is essential to note that it is not a substitute for professional financial advice.
Investing in startups and other financial products can be complex and involve various risks and uncertainties. ChatGPT may be unable to provide the level of analysis and personalized advice necessary to make informed investment decisions.
To make the right investment decisions for your startup, we advise you to seek advice from professional financial advisors with the knowledge and experience to provide personalized advice based on their financial situation, risk tolerance, and investment goals. Additionally, doing due diligence before investing in a startup is critical to making informed investment decisions and minimizing the risks of investing in early-stage companies.
You can use ChatGPT as one of several tools in your investment analysis process, but it is essential to seek professional financial advice when making investment decisions.