Education is one of the most powerful tools in our society. E-learning solutions have evolved from a niche market to become an essential part of the learning experience. So, it's no wonder that e-learning solutions are here to stay—they enable children, students, and adult learners of all ages to learn faster, more affordably, and more efficiently.
After experiencing exponential growth as a result of the pandemic, the EdTech sector is maturing rapidly. According to The European EdTech Funding Report by Brighteye Ventures, Europe's leading VC focused on EdTech-only, interest in this vertical is reflected in large volumes of venture capital investments.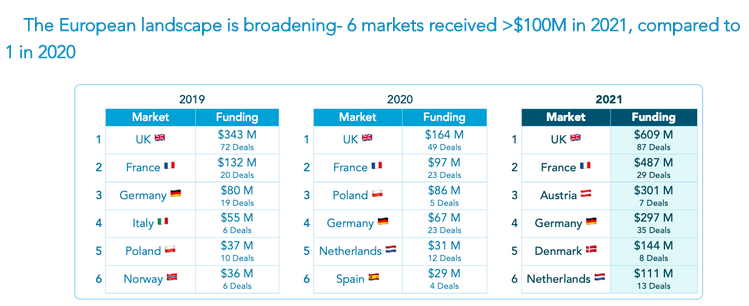 VC funding in European Edtech is spreading across the continent; the Edtech ecosystem is no longer a small pond getting deeper, with the UK and France dominating the top two in terms of total funding, but rather a large, deepening lake lake, with funding flowing to a much broader set of markets.
We organized a dedicated webinar on "EdTech investment: what, why, and how?" to discuss the trends and opportunities in this vibrant tech vertical. The session was held by Raluca Stratulat, Co-Founder & CEO iziBAC and SeedBlink's Portfolio Alumnus, and Florian Lettner, Co-Founder & CEO Fretello, whose campaign is currently active on SeedBlink.
--
Fretello's raise is active on SeedBlink. Explore this investment opportunity here.
SeedBlink is a full-service investment platform that enables everyday and accredited investors to access curated European tech startups through equity crowdinvesting and angel syndicates. To learn more about startup investing and tech opportunities, sign up now.