After countless Product Zoom meetings, email exchanges, codes and calculations, we launched My Portfolio (BETA) new feature for registered investors on the platform, even though we are aware that there are still many aspects to improve and add, and some bugs that we are working on or that we missed.
My Portfolio was designed to be both a means of communication between companies and investors and an Asset Management tool. This upgrade supports and facilitates SeedBlink's approach of communication transparency, with registered investors having access to information about their portfolio anytime, introducing in-depth analysys both in terms of equity value and in terms of business day-to-day. Investors can also track the development of their investment at events that give rise to a re-assessment of assets. This is a natural development of the platform, which adds an essential benefit to both investors that are already registered and future ones.
Feedback from you, or what you expect and would like to see implemented, is extremely valuable to us - we look forward to it at investors@seedblink.com or in the Support section.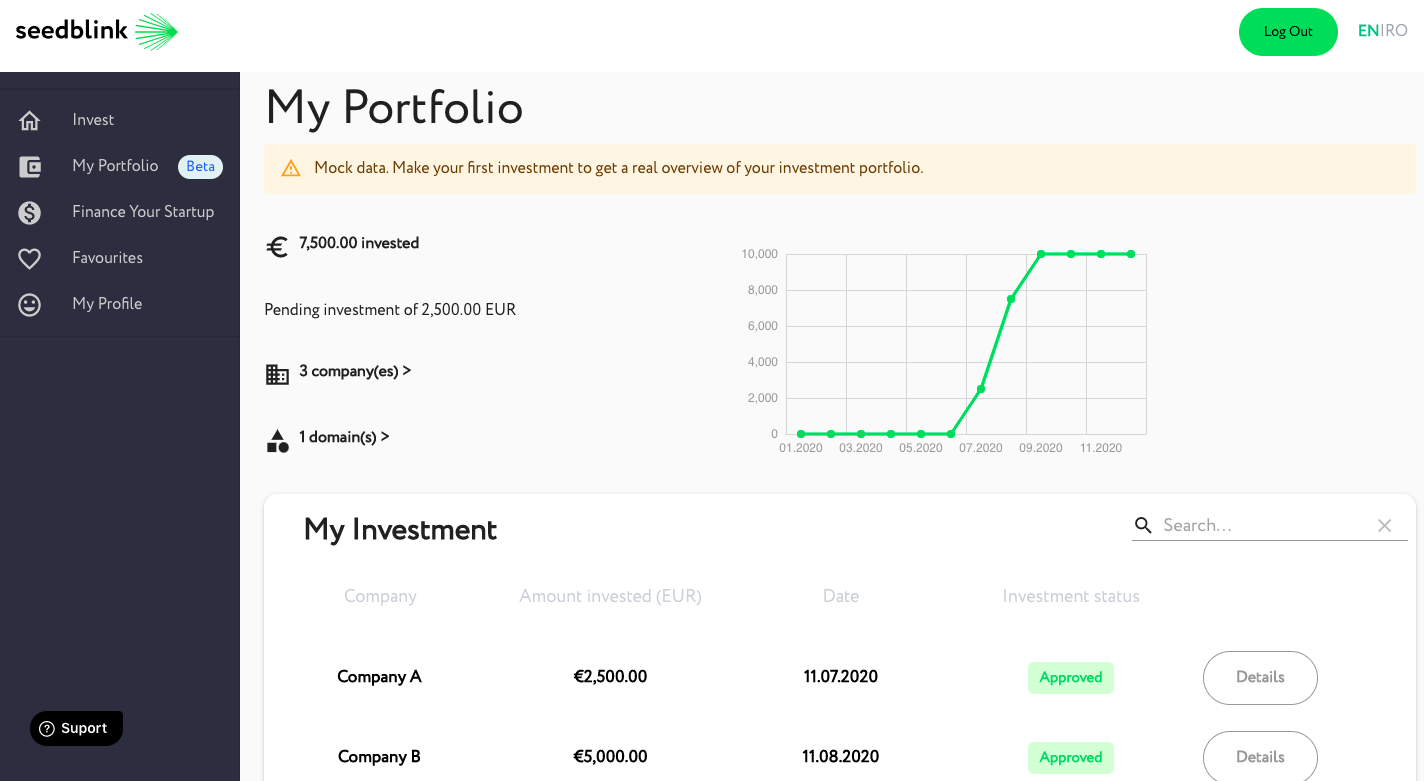 Another upgrade we are really excited to launch together with "My Portfolio" is the new SeedBlink visual identity. After a year of activity, we felt the need to find that "something" that represents us now. We developed in the last months, we better defined our values and methodology, and all of this has led to the creation of a new image, namely a logo that reflects who we are.
Therefore, we have structured the new SeedBlink visual identity, which is reflected on the entire platform under the slogan "backing visionaries" and we brought in the most essential element for our identity, namely the monochromatic symbol that appears next to SeedBlink.

This symbol has come from an analysis of what we are representing, namely:
Community – SeedBlink addresses both experienced or unexperienced investors and start-ups that need funding. We build relationships through what we do, we also support our partners who stand by us, and we focus on our community.
Joining forces – we align our success with the success of funded companies and investors. We work together, talk, listen and help each other, each time achieving much better results, and together with all of our colleagues, investors and entrepreneurs, we will gain much more than we can alone.
Common purpose -our primary goal is to stimulate the innovative business environment with a focus on technology, simplifying and optimising both the process that founders participate in and the investment process.
Vision – in the long term, we want our local approach to become global, and we firmly believe that any small progress made today will lead to a significant result tomorrow.
Changing the image does not mean changing the values we have had so far, and the team behind the logo remains equally determined to democratise investments in innovative tech-start-ups with global scaling potential.
We are grateful for the trust and support that has been given so far.